Skip to Content
Herniated Disc Treatment in Pearland, TX
Texas Institute of Pain & Spine Treats Herniated Discs
Jelly-like discs in the back act as shock absorbers for your vertebrae. When these shock-absorbing discs become brittle or break, leading to herniated discs, the pain is often unbearable. Texas Institute of Pain & Spine in Pearland, TX specializes in diagnosing and treating herniated discs and other painful neck and back ailments. While back injuries are often the cause of herniated discs, they also naturally degenerate over time. Our experienced team will find the best treatment that helps alleviate pain caused by your herniated discs. Contact us today to learn more!
What Causes a Herniated Disc?
Many herniated discs are caused by the natural wear and tear of the spine. Other causes of herniated discs include lifting too heavy of objects, obesity, manual labor, genetics, and smoking. The painful ailment can be effectively treated to help you return to daily activities without neck and back pain.
Symptoms of a Herniated Disc
The most common herniated disc symptoms include:
Intense back and/or neck pain
Pain in the thigh, buttocks, calves, and feet
Numbness or tingling sensation in arms, legs, or feet
Weakness in the arms or lower body
Burning pain in the upper body
Diagnosis of Herniated Disc
We use multiple approaches to diagnose herniated discs, including:
Physical Exam – We'll work with you to pinpoint the primary source of your pain.
X-rays – We can view the space between bones to locate any pain-causing problems.
MRI – MRIs help us visualize soft tissues through a magnetic field and radio waves.
CT Scan – A CT scan offers diagnostic information about bulging discs, tumors, or bone changes by using an injected dye.
Discography – We inject dye into your discs under X-ray guidance for a discography, enabling us to confirm the disc level causing pain.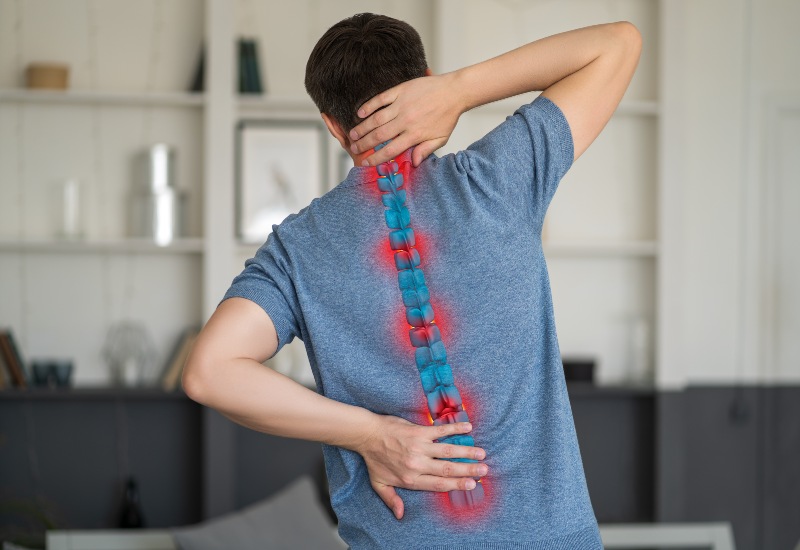 Herniated Disc Treatment
We can often treat herniated discs by changing our lifestyle or exercise. Other times, pain medication and professional treatments are the best courses of action for a pain-free life. We try everything we can to avoid surgery. Our herniated disc treatments include:
Percutaneous Discectomy – A percutaneous discectomy removes a portion of a herniated disc's tissue.
Steroid injections – Steroid injects help reduce pain and inflammation for a herniated disc's nerve root compression pain.
Peripheral Nerve Stimulation (PNS) – We implant an electrode that delivers electrical pulses to a peripheral nerve to stop pain sensations.
Dorsal Root Ganglion Stimulation(DRG) – We implant an electrode that delivers electrical pulses to a nerve root to stop pain sensations.
Choosing Our Houston Office To Eliminate Pain
A herniated disc can interfere with your daily life to the point the pain is overwhelming. Our team is here to offer innovative treatments to eliminate discomfort. We'll work hard to find the best treatment to fit your unique needs. We understand pain management and know the best approaches to help alleviate neck and back pain. Check out most FAQs about neck and back pain, and contact us today to schedule an appointment.
Schedule an Appointment with Our Pain Specialist Today