Skip to Content
Need Effective Neck Pain Treatment Near Pearland, TX?
Our Medical Experts Provide Chronic Neck Pain Relief
Your neck is an important, durable part of your body. It's composed of several parts, including muscles, ligaments, tendons, vertebrae, and discs that work together to move your head normally. Your neck supports the weight of your head and allows smooth movement. Your entire body can seem off track when your neck is out of line due to injury or another condition. With more than 30 percent of the adults in the United States experiencing neck pain every year, it's a common issue that can cause problems that become debilitating and typically worsen over time.
The Texas Institute of Pain and Spine offers a comprehensive collection of neck pain treatments to residents in Pearland, TX, and the surrounding areas. Dr. LaFleur uses his years of experience and familiarity with state-of-the-art and innovative treatments to eliminate or reduce the neck pain you're experiencing. Call us today to learn more about our neck pain treatments!
Types of Neck Pain
Neck pain is often characterized by whether it's in response to an injury, which can typically indicate how long the pain could last. Typically, neck pain falls into the following two categories:
Acute Neck Pain – Acute neck pain is sudden and usually results from an injury. This kind of neck pain lessens over time as the tissue heals.
Chronic Neck Pain – The most common symptom of chronic neck pain is lasting discomfort that doesn't improve and continues for more than three months. This kind of neck pain is usually the symptom of a degenerative disease that causes structural changes within your spine.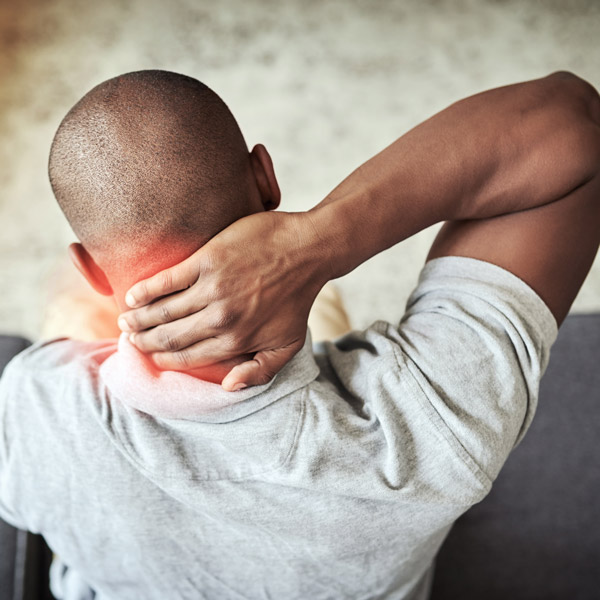 Common Causes of Neck Pain
Neck pain can stem from many different types of trauma and natural causes. Some of the causes of neck pain include:
Muscle sprain or strain
Poor posture
Never compression
Degenerative disease
Osteoarthritis
Spinal tumors
Infection of the cervical spine
Diagnosing Neck Pain in Pearland, TX
At the Texas Institute of Pain and Spine, we'll first perform a thorough evaluation of your medical history to get a better understanding of your current symptoms, lifestyle, and any genetic predispositions. We will also conduct a physical exam to check for the underlying issues causing your neck pain.
To diagnose your neck pain, we'll perform different tests to test the strength of your reflexes, muscles, and sensations. If needed, we will use a CT scan or X-ray to detect spinal fractures or other related issues that could cause your neck pain.
When Should I Seek Treatment for Neck Pain?
Neck pain that's caused by an injury should always be inspected by a physician immediately. If you have chronic neck pain that lasts longer than three months, you may be experiencing frequent headaches, muscle spasms, numbness, and even muscle atrophy, among other conditions. If you've been experiencing neck pain for more than a week, it is time to consult your doctor.
Our Effective Neck Pain Treatments
We offer multiple treatments for neck pain for our patients in Pearland, TX, including:
Can Chronic Neck Pain Disappear?
Unfortunately, chronic pain usually doesn't disappear overnight. While it might lessen for some time, it typically returns if the underlying condition causing the pain isn't properly treated. Most of the time, treatment by professional medical specialists is the only thing that can alleviate or eliminate your symptoms. The proper treatment will relieve neck pain and help you live a comfortable, active lifestyle. We can help you find the best treatment for your needs.
Visit Our Office at Texas Pain and Spine Today!
Neck pain is a common condition many adults worldwide experience every day. If you're experiencing neck pain due to an injury or experiences chronic neck pain, Dr. LaFleur and his team of medical specialists can help. From radiofrequency ablation to advanced treatments, our clinic comes equipped with state-of-the-art equipment and innovative thinking.
Our office in Pearland, TX, offers advanced treatments as a non-invasive option for numerous conditions. Helping to alleviate pain and our other high-tech resolutions help patients find relief. Contact us today to learn more about our neck pain treatments!
Schedule an Appointment with Our Pain Specialist Today