Skip to Content
Neck Pain Therapy and Management in Pearland, TX
Professionally Treating Neck Pain
Neck pain can cause debilitating problems that grow worse over time. The neck supports the weight of your head, allowing smooth movement. When your neck is out of line due to injury, your entire body can seem off track. Texas Institute of Pain and Spine offers a comprehensive collection of neck pain treatments to Pearland-area residents. Dr. LaFleur uses his years of experience and familiarity with state-of-the-art and innovative treatments to remove or reduce pain. Contact us today to learn more about our neck pain treatments.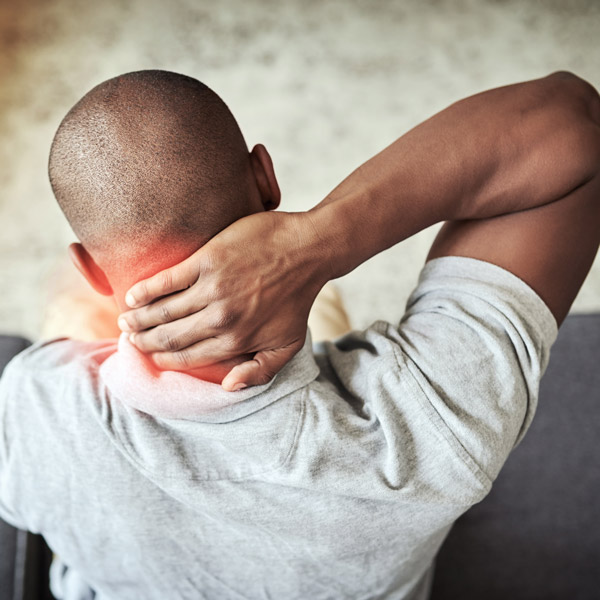 Causes Of Neck Pain
Neck pain can stem from many different types of trauma and natural causes. Some of the causes of neck pain include:
Muscle sprain or strain
Poor posture
Never compression
Degenerative disease
Osteoarthritis
Spinal tumors
Infection of the cervical spine
Diagnosing Neck Pain in Pearland, TX
We use different tests to diagnose neck pain. Your diagnosis is usually based on a physical and neurological examination. We will test the strength of your muscles, your reflexes, and your sensations. If needed, we will use a CT scan or X-ray to detect spinal fractures or other issues.
When Do I Seek Neck Pain Treatment?
Neck pain often manifests itself throughout your body. Chronic neck pain radiates throughout your body, resulting in frequent headaches, pain between the shoulder blades, pain that moves from the neck to the hands, muscle spasm, numbness, and muscle atrophy. If you are experiencing a large amount of these symptoms, you need to seek neck pain treatment.
Neck Pain Treatments
We offer multiple ways to treat neck pain for our patients in Pearland, TX, including:
Can Chronic Pain Disappear?
Chronic pain is not something that disappears overnight. It might go away over time, but it depends on the underlying condition causing your pain. Many times, professional treatment is the only thing that will help alleviate your pain. The proper treatment will rid you of your pain and help you live an active lifestyle. We can help you find the best treatment for your needs.
Why Choose Texas Institute of Pain & Spine
Neck pain is just one of many common manifestations of soft and deep-tissue injuries. Back and joint pain also indicates a larger problem and can be addressed by utilizing our services. From radiofrequency ablation to advanced treatments, our clinic comes equipped with top-of-the-line equipment and innovative thinking. Texas Institute of Pain & Spine's Houston, TX location offers treatments as a non-invasive option. Helping to alleviate pain, and our other high-tech resolutions help patients find relief. Contact us today to learn more about our neck pain treatments
Contact Us Today to Schedule an Appointment
Dr. LaFleur and our knowledgeable medical team are passionate about fighting pain. We treat multiple conditions that cause back and neck pain. In addition to pain management, Dr. LaFleur is interested in treating cancer pain, complex regional pain syndrome, and post-laminectomy syndrome. Contact our office today to get started.
Schedule an Appointment with Our Pain Specialist Today