Skip to Content
Spinal Cord Stimulation Trial and Implant Specialists in Pearland, TX
The Best Cervical Spinal Cord Stimulator Trials in TX
Explore a path to pain relief and improved quality of life with Texas Institute of Pain and Spine's premier spinal cord stimulation trial and implantation services in Pearland, TX. Dr. Lance LaFleur and his dedicated team are committed to providing cutting-edge solutions for individuals suffering from chronic pain. Our Spinal Cord Stimulation trials and implants offer a beacon of hope for those seeking alternatives to traditional pain management. Discover how we can transform your life – take the first step towards a pain-free future and schedule your consultation today.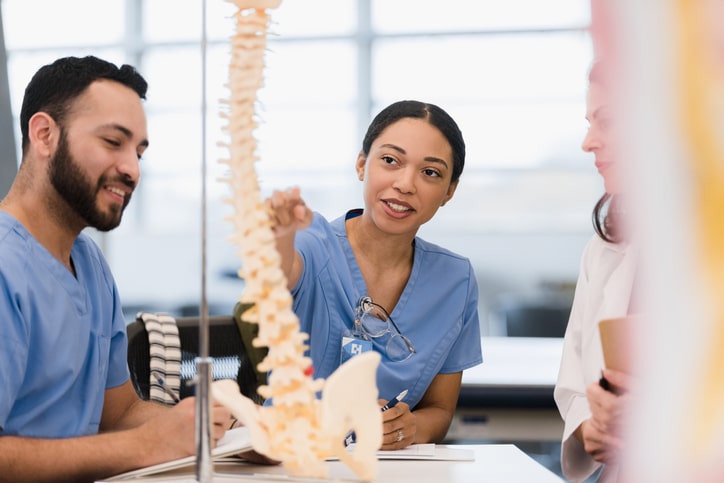 What Are Spinal Cord Stimulator Trials and Implantation?
Spinal Cord Stimulator (SCS) Trials and Implantation are medical procedures for managing chronic pain. In an SCS trial, temporary electrodes are placed near the spinal cord to assess pain relief potential. If successful, a permanent SCS implant is surgically placed under the skin, sending controlled electrical impulses to disrupt pain signals, offering long-term pain management for individuals with chronic pain conditions.
What to Expect During Spinal Cord Stimulation Trials
Patients can expect a temporary electrode placement during spinal cord stimulator trials to assess pain relief suitability. This typically involves a local anesthetic and conscious sedation. If the trial effectively alleviates pain, the permanent implantation involves a minor surgical procedure. A small device is implanted under the skin, usually in the buttock or abdomen, with leads connected to the spine. Patients should anticipate an adjustment period to optimize stimulation settings for their comfort. Lumbar spinal cord stimulator trials offer long-term pain management and improved quality of life for those with chronic pain conditions.
Conditions Treated With Spinal Cord Stimulation
The spinal cord stimulator trial procedure treats a range of chronic pain conditions. The conditions include, but are not limited to:
Neuropathic Pain – SCS can effectively manage neuropathic pain, often caused by nerve damage or dysfunction, such as diabetic neuropathy or post-herpetic neuralgia.
Failed Back Surgery Syndrome (FBSS) – Patients who continue to experience chronic back or leg pain after one or more spinal surgeries may find relief with SCS.
Complex Regional Pain Syndrome (CRPS) – SCS has been used to alleviate the severe and chronic pain associated with CRPS, a condition typically affecting an extremity.
Peripheral Vascular Disease (PVD) – SCS may help alleviate the leg pain caused by reduced blood flow associated with PVD.
Spinal Stenosis – SCS can be considered for patients with spinal stenosis, a condition characterized by the narrowing of the spinal canal, leading to nerve compression and pain.
Arachnoiditis – This condition involves inflammation of the arachnoid lining of the spinal cord and can result in severe, chronic pain, which SCS may help manage.
Ischemic Limb Pain – Patients with chronic limb pain due to insufficient blood flow may benefit from SCS to improve their pain symptoms.
Benefits of Spinal Cord Stimulation Trials
A Spinal Cord Stimulation (SCS) trial can offer many benefits. They include:
Assessment of Efficacy – SCS trials allow patients and healthcare providers to assess whether the treatment effectively manages the patient's chronic pain before committing to a permanent implant.
Customized Pain Management – The trial helps determine the optimal placement of electrodes and stimulation settings, ensuring personalized pain relief tailored to the patient's needs.
Reversibility – Unlike a permanent implant, the trial is temporary and can be easily removed if the patient does not experience sufficient pain relief or experiences undesirable side effects.
Minimized Risks – SCS trials carry fewer risks than permanent implants, making them a safer option for evaluating the treatment's suitability.
Improved Quality of Life – Successful SCS trials can temporarily relieve debilitating chronic pain, enhancing a patient's overall quality of life during the trial period.
Why Choose Texas Institute of Pain and Spine
Select Texas Institute of Pain and Spine for your spinal cord stimulation trial and implantation needs, and experience a higher standard of care. Our team of experts specializes in this cutting-edge pain management technique, offering tailored solutions for lasting relief. With state-of-the-art technology and a patient-centric approach, we ensure you receive the best possible outcome. Take the first step towards a pain-free future and schedule your consultation today. Your journey to improved well-being begins here, with us by your side every step of the way.
Schedule an Appointment with Our Pain Specialist Today