Skip to Content
Sciatica Treatment Specialist in Pearland, TX
Ease Sciatica Pain With Innovative Treatments
The sciatic nerve is the longest one in the body, so damaging it can lead to pain in multiple locations. The Texas Institute of Pain and Spine provides innovative sciatica treatment in Pearland, TX. Dr. J. Lance LaFleur and our team of experts understand the radiating pain that is associated with sciatica. When an injury puts pressure on the sciatic nerve, it becomes irritated and often manifests itself as pain radiating from the buttock down the back of the thigh. We can help find the best treatment to ease your sciatica pain. Contact us today to schedule an appointment.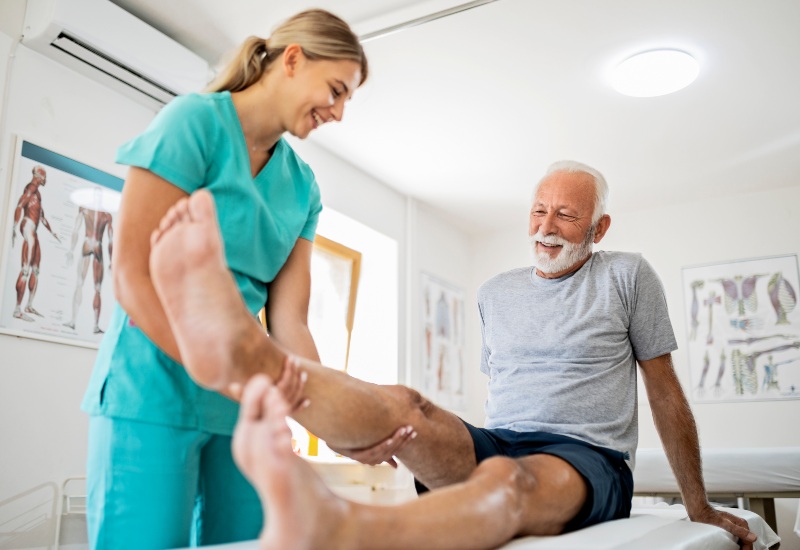 Sciatica Symptoms
Back pain doesn't always indicate sciatica. The most common sciatica symptoms include:
Persistent pain in the hips or rear
Consistent leg pain
Numbness or tingling in legs
Hip to foot irritation
Weakness in lower back and legs
Restricted movement
Stabbing feeling in legs
Cause of Sciatica
Sciatica is caused when the sciatic nerve is compressed or pinched, affecting the lower spine and hip area. The most common causes of a compressed sciatic nerve include:
Ruptured or herniated disk
Misalignment of vertebrae
Overgrown spinal ligaments
Synovial cysts of the spine
Tumors on spinal nerves
Spinal stenosis
Bones spurs on the vertebra
Direct trauma to the sciatic nerve
Sciatica Treatment Options
We offer customized and effective sciatica treatment options at the Texas Institute of Pain and Spine. We offer many non-surgical sciatica treatment options, including:
Radiofrequency Ablation– Eliminates nerve fibers that transmit pain signals.
Exercise – Customized exercise plans help build muscle strength.
Sciatica Chiropractic Treatment – Massage and sciatica chiropractic treatment help eliminate nerve compression.
Spinal cord stimulation (SCS) – Reduces the sensation of pain by using electrical currents to stimulate the spine.
Piriformis Injections – Long-lasting steroid injections help address tightness and pain in the piriformis muscle.
Nerve block –A sciatic nerve block helps relieve pain by blocking sensory information.
Sciatica Risks
Some sciatica patients unexpectedly develop sciatica pain, but there are also inherited risk factors and behaviors that lead to sciatica risks. Typical sciatica risks include:
Contact sports that may lead to a hip, leg, or back injury
Sedentary lifestyle
Excess weight
Failing to stretch before exercising
Smoking and alcohol abuse
Why Choose Texas Institute of Pain & Spine?
Our Texas Institute of Pain & Spine team is committed to helping you live a life without pain. Dr. J. Lance LaFleur is an interventional pain physician board-certified in anesthesiology and pain medicine by the American Board of Anesthesiology. Dr. LaFleur uses innovative treatments to reduce and eliminate neck and back pain. We work tirelessly to find the root of your pain and customize a specific treatment to your needs.
Contact Texas Institute of Pain & Spine Today
Don't let sciatica take over your life. We can help you eliminate pain and live an active lifestyle. We're experienced in many different pain treatments and the most innovative technology. We'll help reduce your pain in the most minimally invasive, effective ways possible. Call us today, visit our Pearland office, or fill out our contact form to schedule an appointment with our compassionate team.
Schedule an Appointment with Our Pain Specialist Today